Cameo
FLOOD 600 IP65
Outdoor Flood Light with 9 x 12 W RGBWA + UV 6-In-1 LEDs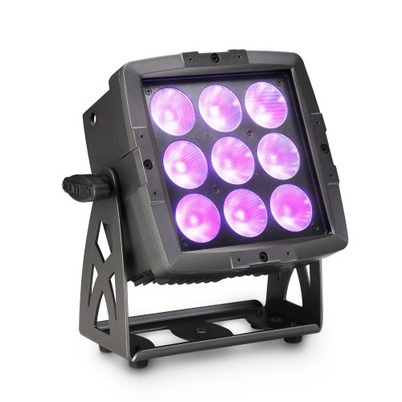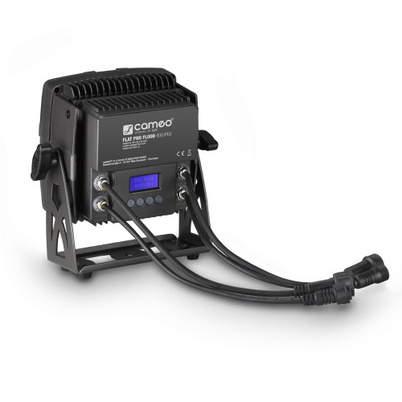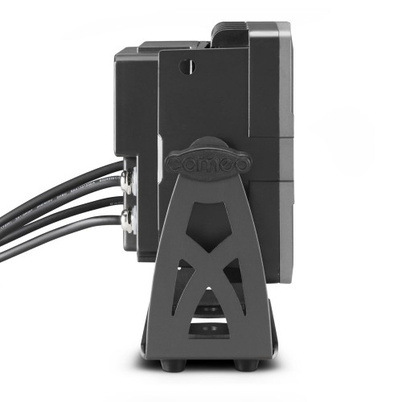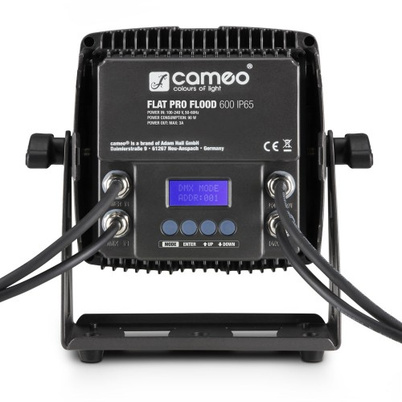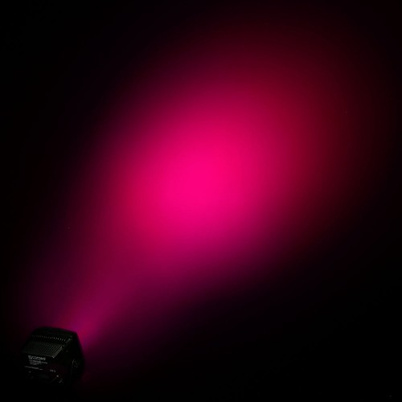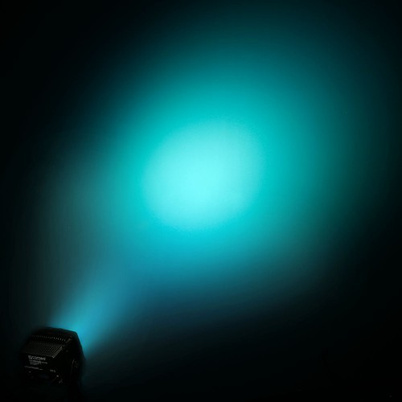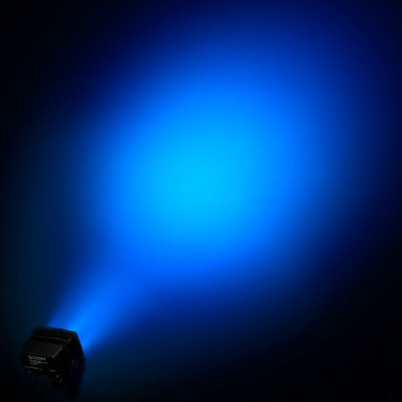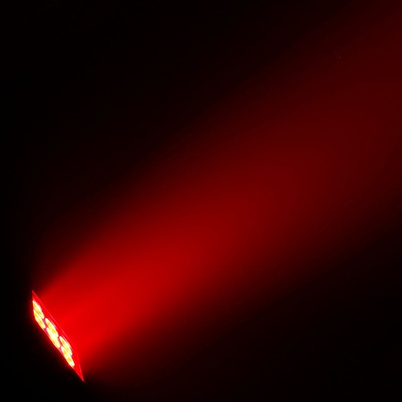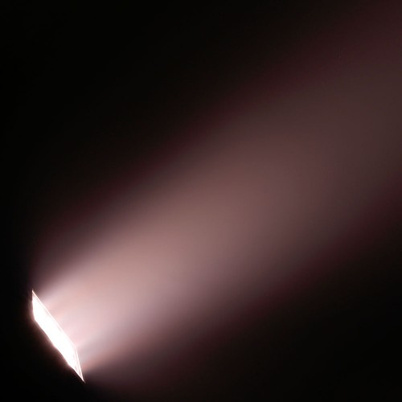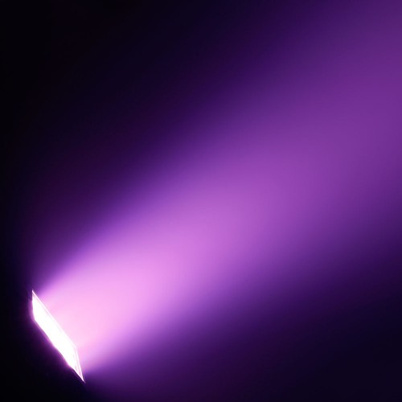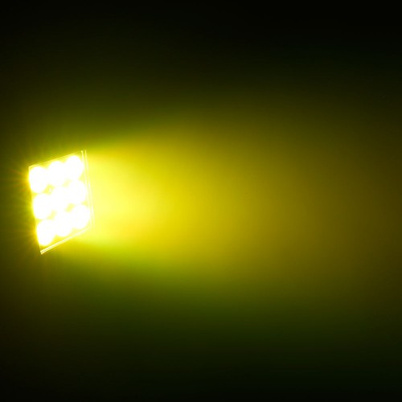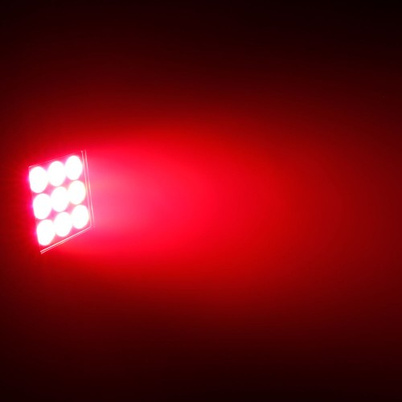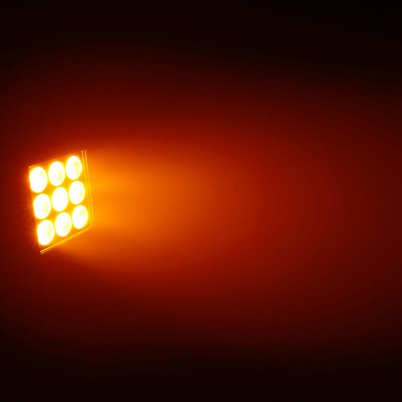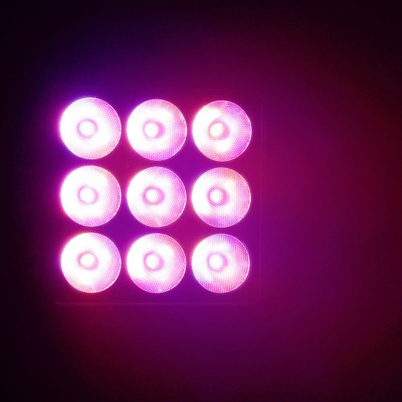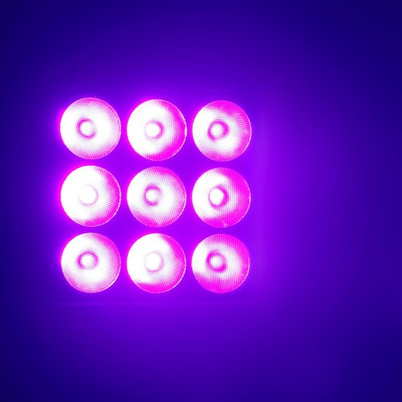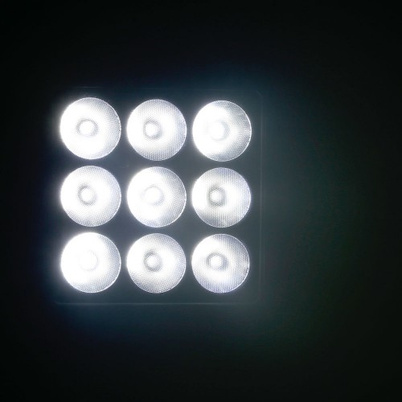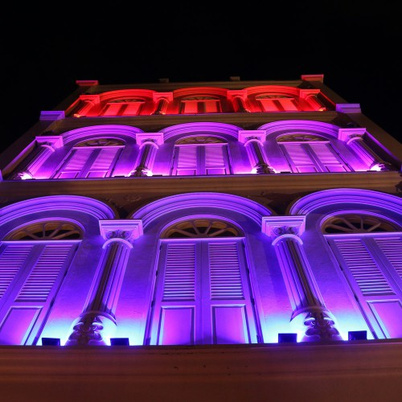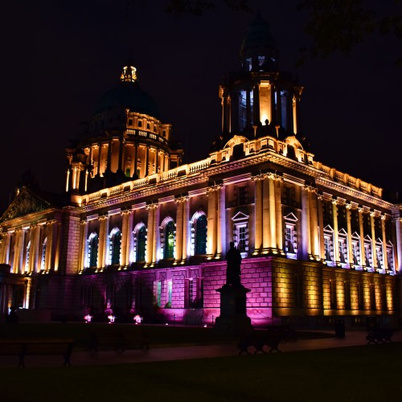 Highly flexible IP65 outdoor flood light
Ultra flexible colour mixing with rich solid, warm pastel and UV colours
Flicker free
6 modes of DMX control plus master, slave and standalone applications
4-button display for intuitive operation
Security lock against unauthorized menu access
Durable compact size metal enclosure
Screw connectors for DMX and mains input and output
Incl. universal bracket

FLOOD 600 IP65
Outdoor Flood Light with 9 x 12 W RGBWA + UV 6-In-1 LEDs
Specifications
DMX512
Communication standard DMX512 was developed specially for lighting systems in 1986. Up to 32 DMX devices can be daisy-chained and controlled via a control source (e.g. a light mixer).
Environment-friendly
The high energy efficiency, the long service life of the LED lamps and the low level of heat dissipation make this device particularly environment-friendly.
Protection class IP65
The IP code of the protection class indicates how well the sensitive parts of the device are protected from foreign bodies and water entering. This device is fully protected from the penetration of dust and water jets.
LED technology
LEDs are ideal for use in lighting systems: They are bright and have a low level of heat dissipation, a long operating life and low energy consumption. Moreover, LED systems often weigh less than conventional lighting systems.
Master & slave
Master/slave operation allows identical DMX devices to be controlled by a DMX device of the same model and software standard. All the devices are connected by DMX cables in series. The master device is then set to run in standalone mode and the slave devices are set to run in slave mode.
Music control
In music control mode, the device is controlled via the built-in microphone and can follow the rhythm of the music, for example.
Standalone mode
In standalone mode, the device functions are controlled via integrated programmes, so no light mixer or "master" controller is required.
Strobe
Strobes emit fast flash sequences, which makes movements appear "frozen" and creates a kind of slow-motion effect.
6-in-1 LED
Additional amber-coloured, white and UV LEDs expand the GB spectrum, creating more saturation and contrast as well as clearer colour boundaries. The UV-LED is a practical extra and an alternative to conventional black light.
RDM
This device has full RDM capability. The RDM protocol supplements the DMX protocol and enables bidirectional communication via a standard DMX network. It simplifies configuration, administration and monitoring of RDM devices connected to an RDM controller.
General
Product type
LED PAR Lighting
LED type
12W (approx. 50000 operating hours)
DMX input
3-pin special connector, screwable
DMX output
3-pin special connector, screwable
DMX mode
11-channel, 2-channel, 3-channel 1, 3-channel 2, 6-channel, 9-channel
DMX Functions
colour fade, colour jump, colour macro, master dimmer, RGBWA+UV, strobe
Standalone modes
Auto programs, colour fade, colour jump, colour macro, Master / Slave mode, static colour
Controls
Enter, Mode, Value Down, Value Up
Operating voltage
100 V AC - 240 V AC, 50 - 60 Hz
Power connector
3-pin special connector, screwable
Illuminance
7500 lx @ 1 m
Dimensions without mounting bracket
Description
The Cameo FLAT PRO series FLOOD 600 IP65 is a compact RDM enabled outdoor flood light equipped with nine 12 watt 6-in-1 LEDs generating rich RGBWA colours, soft pastel hues and intense UV effects. The IP65 rated fixture sports convection cooling, a 40° beam angle and 3,000 Hz refresh rate for flicker free performance.
The hardwearing metal enclosure features 3-pin screw connectors for DMX and mains input and output plus a backlit 4-button display for easy, intuitive operation while a security lock prevents unauthorized menu access. The Cameo FLOOD 600 IP65 provides 6 modes of DMX control with dimmer and strobe functions, colour temperature correction and master, slave and standalone applications.
The multi-voltage fixture operates on 100 – 240 V AC and comes with an adjustable universal bracket for floor placement and multiple mounting options. Barn doors are available as accessory.
Stories
Gardens filled with light – Illuminate Design lights up the gardens of the Royal Horticultural Society with over 500 Cameo spotlights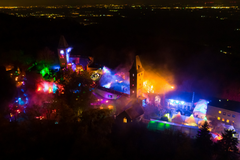 Cameo Enlightens Frankenstein Castle For Halloween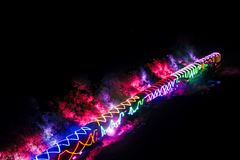 Lights in the dark night – Cameo illuminates 5 heritage railway lines across England