LD Systems
X-EDAI
Ethernet & Dante audio interface expansion card for IPA series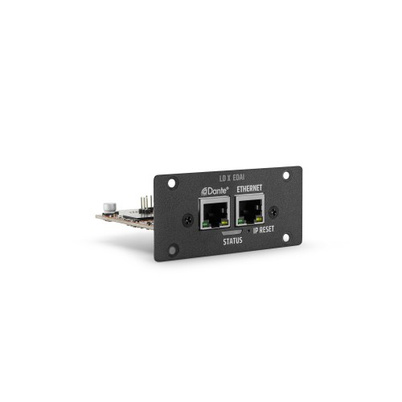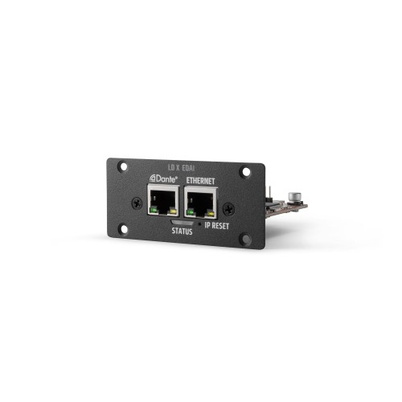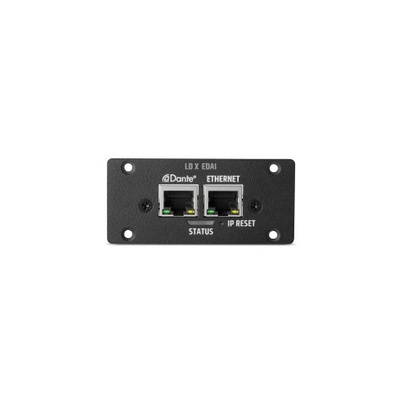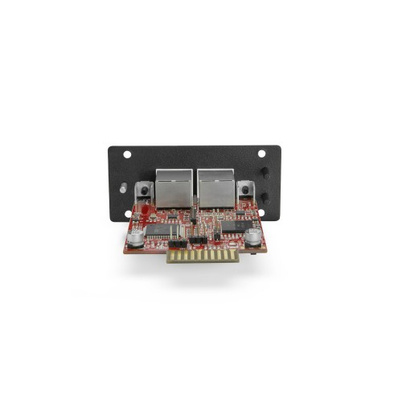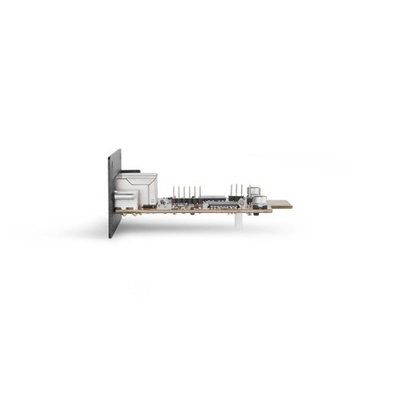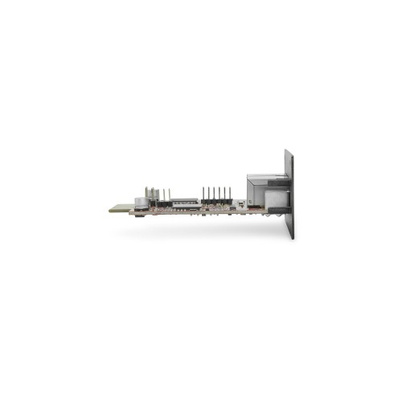 Fast-Ethernet (100 Mbps) control interface
Remote control and DSP configuration of the IPA series via QUESTRA® software
Dante Audio-over-IP interface with 4 inputs and 4 outputs
Easy integration into existing Dante audio networks
Status LED
IP reset button for quick troubleshooting at the unit
Asymmetric pins for error-free card installation

X-EDAI
Ethernet & Dante audio interface expansion card for IPA series
Specifications
General
Product type
Expansion card for Ethernet control and Dante audio networking
Ethernet
Transmission protocol
TCP/IP, UDP
Ethernet Standart
10/100 Base-T
Power consumption
1.075W (Link Down), 1.375W (Link Up)
Dante
Transmission Protocoll
Dante network audio
Sample rate
44.1/48/88.2/96 kHz
Power consumption
0.875W (Link Down), 0.925W (Link Up)
LED indicator
Rear
RJ45 LEDs: Link/Activity, Status LED: Internal Connection Status
General data
Dimensions (W x H x D)
82.5 mm x 36.5 mm x 76.3 mm
Compatible devices
LDIPA412T, LDIPA424T
Description
With the X-EDAI Ethernet & Dante Audio Interface expansion card, LD Systems complements the possibilities of the X-ECI Ethernet Control expansion card with a Dante Audio Interface with four inputs and outputs. Thus, X-EDAI offers both remote control and access to the DSP settings of LD Systems IPA DSP installation power amplifiers as well as easy integration of the IPA series into existing Dante audio networks.
In conjunction with LD Systems QUESTRA® software, the X-EDAI interface card provides flexible and effective configuration and control of fixed audio installations of various sizes - whether in hotels, restaurants, shopping centres, sports facilities, office environments and more.
The X-EDAI Ethernet Control expansion card has two IP network ports: While the 100 Mbps Ethernet port provides control and DSP access for the IPA installation power amplifiers, the second port can be used to transmit and receive four incoming and four outgoing Dante audio channels. The configuration and routing of the Dante audio channels is done as standard in the Audinate Dante Controller software.
Furthermore, the X-EDAI expansion card has a status LED and an IP reset button for quick and easy troubleshooting. Thanks to the card's asymmetrical pin arrangement, accidental incorrect installation of the interface card in the IPA housing is impossible.
Via the QUESTRA® software, system integrators can access all DSP settings of the IPA installation power amplifier. The possibilities range from signal processing at the input (preamp, compressor, etc.), signal flow in the matrix mixer, output processing (EQ, dynamics, delay, polarity, mute) to priority settings and preset management. In addition, customised control panels can be created in the QUESTRA® software, which can be used by end customers on smartphones, tablets or computers (via the QUESTRA® Panels app) for convenient control of their system.