Adam Hall Cables
4 STAR T 422
Twin Microphone Cable 4 conductors of 0.22 mm² AWG24 | Standard series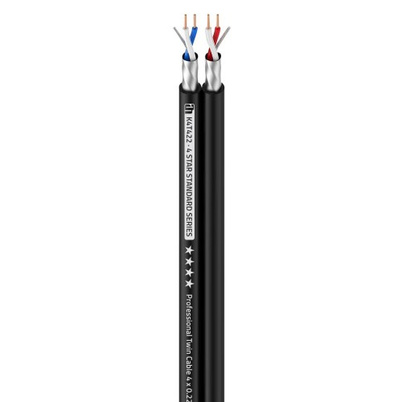 4 Star "Standard" Series
Packaging unit: 100m on drum
Very high flexibility, also ideal for use on drums
Excellent shielding due to aluminium fleece and stranded wire
Very small diameter, therefore perfect as patch cable
Compatible with XLR, RCA or jack plugs

4 STAR T 422
Twin Microphone Cable 4 conductors of 0.22 mm² AWG24 |...
Specifications
General
Overall diameter
5 x 10 mm
Center conductor cross section
0.22 mm²
Center conductor material
OFC
Center conductor construction
28 x 0.10 mm
Number of internal conductors
4
Description
This high-quality twist cable from our 4 STAR SERIES is perfectly suited for use as a patch cable, for example, due to its small diameter. It fits all common plugs such as XLR, cinch or jack and can thus be individually equipped for the needs it is supposed to meet. Due to its incredibly high flexibility, it is also perfect for use on drums.