Cameo
CLEANING FLUID 0.25 L
Special Fluid for Cleaning Fog Machines 250 ml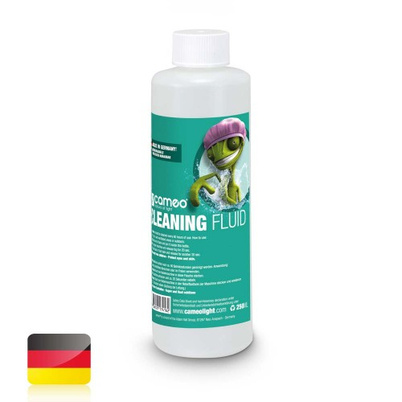 very high quality and efficient cleaning fluid
cleans fluid residue
prolongs the life of fog machines
Capacity 250 ml
made in Germany

CLEANING FLUID 0.25 L
Special Fluid for Cleaning Fog Machines 250 ml
Specifications
General
Product type
Fog and Wind Machine Accessories
Description
The Cameo fog machine cleaner removes fluid residue and blockages and thus ensures continuously effective output and long life span of the equipment , which should be regularly maintained after approx. 60 hours.
The Cameo cleaner is manufactured in Germany under continuous quality control and should only be used in well ventilated areas or outdoors. The DIN safety data sheet and a compliance certificate are available for download.
CAUTION: Keep away from children and protect eyes and skin while cleaning!