Adam Hall Hardware
0897 G
9.4 mm Eucalyptus / Poplar Top 2500 x 1220 mm, black with Counterpane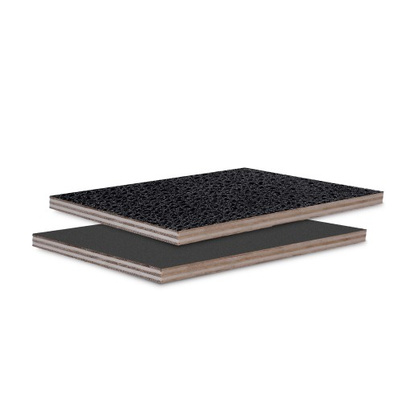 PVC-coated wooden top consisting of eucalyptus face veneer and Poplar Middle layers alternating
With weather-resistant glueing
Dimensions 2500 x 1220 x 9.4 mm

0897 G
9.4 mm Eucalyptus / Poplar Top 2500 x 1220 mm, black with...
Specifications
General
Product type
Wood and Twin-wall panels
Material
Eucalyptus with cardboard inserts
Front surface
plastic-coated
Rear surface
stabilizing foil
Front colour
black (RAL9011)
Description
Due to the rapidly renewable wood raw materials, this wooden panel is particularly suitable for environmentally conscious flight case builders. A strong and at the same time weather-resistant eucalyptus wood with poplar middle layers offer a good alternative for numerous purposes. However, it should be noted that eucalyptus has a somewhat lower load-bearing capacity compared to birch panels.