Neutrik
NC5FDX-TOP
XLR chassis connectors 5-pole female Neutrik® | IP65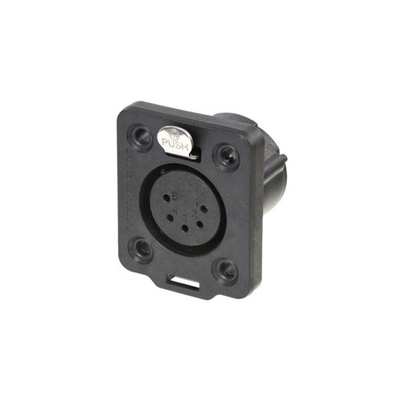 Archived item: This item is no longer in our product range.
Heavy-duty sealed XLR connector range for harsh and demanding environment
Outdoor protection according to IP65 and UL50E (in combination with a TOP range counterpart)
Uses high impact UV-resistant materials
Maintains sealing when in use and when disconnected

NC5FDX-TOP
XLR chassis connectors 5-pole female Neutrik® | IP65
Specifications
General
Product type
Plugs and Connectors
Connection type
solder contacts
Capacitance between contacts
4 pF
insulating resistance
> 10 G
Rated current per contact
16 A
Fire protection class
UL94 V-0
Temperature range
- 30 °C / + 80 °C °C
Description
The X-TOP series is a "heavy-duty" XLR chassis connector for outdoor use. Outdoor protected by mating with related cable connector of the XLR TOP range (IP65 and UL50E). Gold contacts are standard.