Adam Hall Cables
4 STAR TWIN 414
Twin Microphone Cable 4 conductors of 0.14 mm² AWG26 | Standard series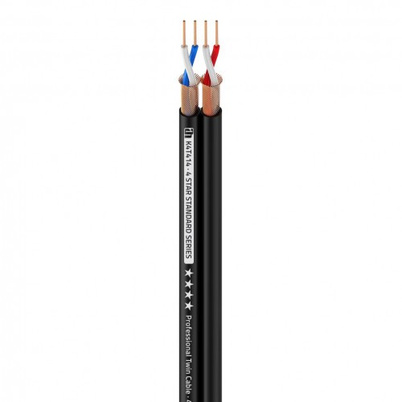 From our 4 Star "Standard" Series
Very flexible, thanks to fine stranding
Small diameter of 4 mm per core
Perfectly suitable for RCA, cinch or jack sockets
Tight spiral shield

4 STAR TWIN 414
Twin Microphone Cable 4 conductors of 0.14 mm² AWG26 |...
Specifications
General
Overall diameter
4 x 8 mm
Center conductor cross section
0.14 mm²
Center conductor material
Copper, OFC
Center conductor construction
18 x 0.1 mm
Number of internal conductors
2 x 2
Line surge impedance
110 Ohm(s)
Line resistance
125 Ohm(s)
Description
Thanks to its small diameter, the twin cable is perfect for assembling cinch connectors, for example. Thanks to the fine stranding, it is very flexible.