Cameo
MULTI PAR 1 SET
Set with 432 x 10 mm LED Lighting Set with Transport Case, 4 Pedal Foot Switch and Stand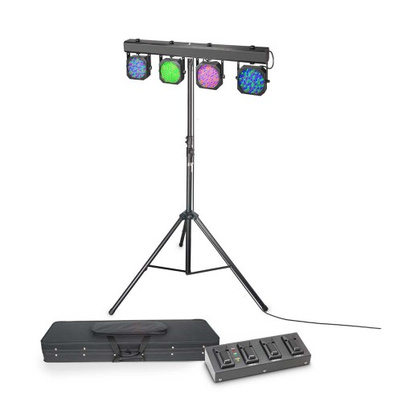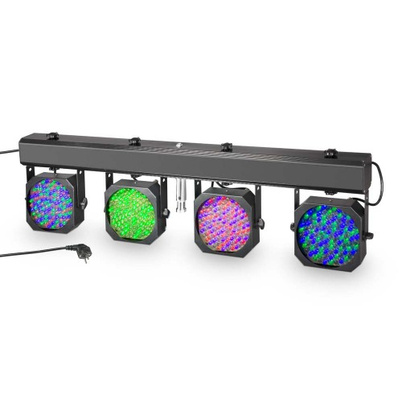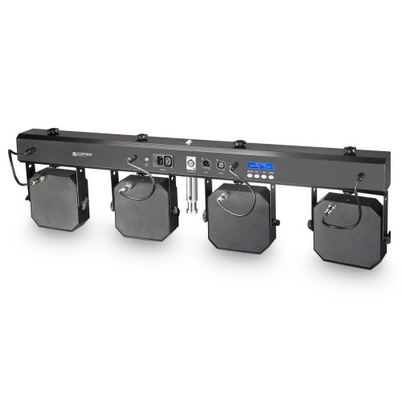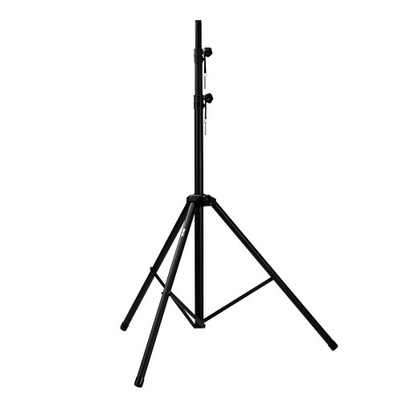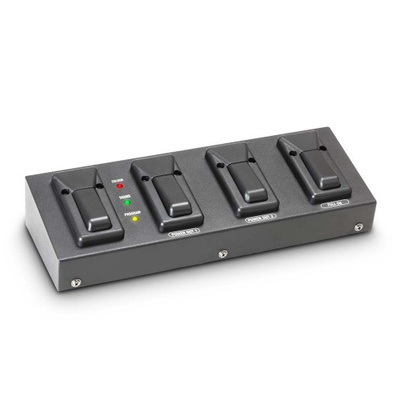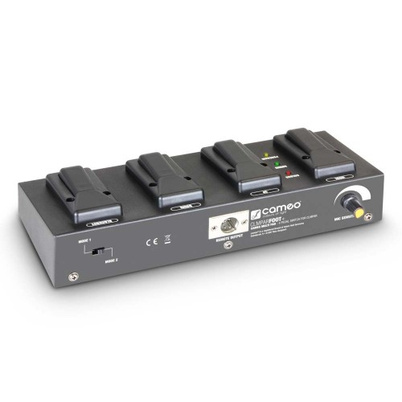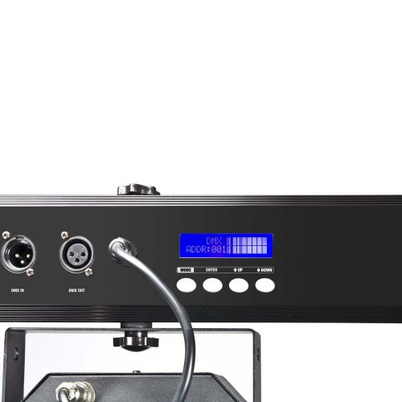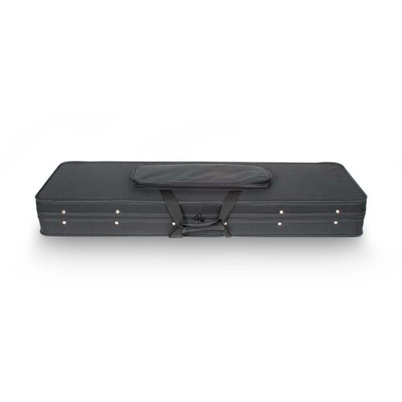 Archived item: This item is no longer in our product range.
4 x 108 powerful, long-life 10 mm RGB LEDs
Professional 28-mm TV spigot for mounting
Operated via DMX, in master/slave mode or standalone mode
Integrated microphone for sound control
Simple to operate using the four buttons and LC-Display
Sturdy metal housing
With Transport Case, 4 pedal Foot Switch and Stand
MULTI PAR 1 SET
Set with 432 x 10 mm LED Lighting Set with Transport Case, 4...
Specifications
DMX512
Communication standard DMX512 was developed specially for lighting systems in 1986. Up to 32 DMX devices can be daisy-chained and controlled via a control source (e.g. a light mixer).
Environment-friendly
The high energy efficiency, the long service life of the LED lamps and the low level of heat dissipation make this device particularly environment-friendly.
LED technology
LEDs are ideal for use in lighting systems: They are bright and have a low level of heat dissipation, a long operating life and low energy consumption. Moreover, LED systems often weigh less than conventional lighting systems.
Master & slave
Master/slave operation allows identical DMX devices to be controlled by a DMX device of the same model and software standard. All the devices are connected by DMX cables in series. The master device is then set to run in standalone mode and the slave devices are set to run in slave mode.
RGB additive colour system
With additive colour blending, all colours and white are created by blending different amounts of red, green and blue light. The RGB system is used in televisions, computer monitors and digital cameras, for example.
Music control
In music control mode, the device is controlled via the built-in microphone and can follow the rhythm of the music, for example.
Standalone mode
In standalone mode, the device functions are controlled via integrated programmes, so no light mixer or "master" controller is required.
Strobe
Strobes emit fast flash sequences, which makes movements appear "frozen" and creates a kind of slow-motion effect.
General
Product type
LED Lighting Systems
Items in this set
Cameo Multi PAR FOOT PLUS 4-fold foot pedal for CLMPAR
View items
Product type
LED Lighting System Accessories
Controls
Blackout, CD / USB / SD, Down, Microphone sensitivity, Mode, Up
Indicators
Program selection, sound control, static colour
Connectors
5-pole XLR socket male
Cameo MULTI PAR 1 Compact 432 x 10 mm LED Lighting System incl. Transport Case
View items
Product type
LED Lighting Systems
Controls
Enter, Mode, Value Down, Value Up
Indicators
multifunction LC display
DMX output
XLR 3-pin female
DMX mode
15-channel, 6-channel, 9-channel
DMX Functions
colour fade, colour jump, master dimmer, RGB, sound control, Strobe
Standalone modes
Auto run, colour change, colour fade, slave mode, sound control, static colour
Remote connection
XLR 5-pin female
Operating voltage
100 V AC - 250 V AC
Power connector
IEC power connector female, IEC power connector male
Adam Hall Stands SLTS 017 E Lighting Stand large with TV Spigot Adapter
View items
Product type
Stands and Tripods
Stand surface
Powder coated
Holding fixture for TV Spigot
Yes
Description
The four compact flat cans mounted on a bar with integrated control make the CLMPAR 1 the ideal basic kit for stage lighting. Each of the four flat cans is fitted with 108 ultra-bright 10-mm LEDs, creating awe-inspiring brightness and the perfect colour mix.
The CLMPAR 1 is equipped with 3-pole XLR inputs and outputs to enable actuation via DMX with 6, 9 or 15 channels. Alternatively, the CLMPAR 1 can be actuated by an optional controller. Of course, the CLMPAR 1 also works in standalone mode, with a microphone for sound control integrated into the bar. A 4-way foot controller is available as an optional extra.
The CLMPAR1 is powered via a removable earthing contact cable and is equipped with a 28-mm TV adapter for tripod-mounting. The practical transport case is included as standard.